Glenn Curtiss Historic Florida Estate Restored. General Aviation News has reported that the 13-year restoration of the historic Florida estate of inventor, developer and "Father of Naval Aviation" Glenn H. Curtiss is now complete. Its worth noting that Curtiss had moved to South Florida from Hammondsport, New York, during the land boom of the 1920s and then he helped to develop the cities of Miami Springs, Hialeah and Opa-locka before his death in the 1930 at age 52. For more information, visit CurtissMansion.org.
Take a Virtual Tour of the US Air Force Museum. For history buffs who can't visit the US Air Force Museum near Dayton (Ohio) in person, their website now offers a Virtual Tour which is fully embedded with audio and video hotspots – offering online visitors the opportunity to experience the entire museum. To take the tour, visit NMusafvirtualtour.com and for more information about the museum itself, check out NationalMuseum.af.mil.
FBO Offers Specials for the Kentucky Derby. Horse racing fans take note: Aircraft Specialists Inc. which is around 15 minutes by car from the Churchill Downs, the home of the Kentucky Derby, is offering customers triple AVTRIP points on fuel purchases and fuel discounts on quantity purchases. Points and discounts are available May 3-7 and for more information, visit 800projets.com.
Nose Art and Names. Meanwhile, Carmelo Turdo has written a post about nose art and dedications on aircraft that included a number of great pictures of examples he found around his local airport in the St. Louis area over the past several years.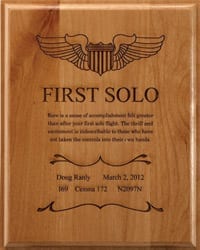 Commemorate Your First Solo. If you or a friend or A relative has just completed a first solo flight, Sporty's First Solo Commemorative Wooden Plaque will help preserve the memories. The 8 inches x 10 inch plaque is made from alder wood and is laser-etched with the pilot's name and aircraft on two lines. In addition, the plaque reads: "Rare is a sense of accomplishment felt greater than after your first solo flight. The thrill and excitement is indescribable to those who have not taken the controls into their own hands." It ships within two business days and is available for $29.95 at Sportys.com.
iFlightPlanner.com v3.0 Released. General Aviation News has also reported that iFlightPlanner.com has been upgraded to v3.0 with new features that came about as a direct result of interactions the iFlightPlanner staff had with users since the iFlightPlanner for iPad was introduced at EAA's AirVenture last summer. iFlightPlanner Premium memberships are available for $9.95 per month, $24.95 quarterly (3 months) or $89.95 per year and more information is available at iFlightPlanner.com.
A Helicopter Tries to Tow a Boat… Finally and if you ever thought of using a helicopter or aircraft to tow something like a stalled boat – don't try it as this video shows what can happen. Apparently and according to comments posted on YouTube, you need a VERY long tether for towing with the rule of thumb for anything being towed on water is 10x length of vessel being towed or 10x length of vessel doing tow. Better yet, just DON'T try it!