The Top 10 Things to See at AirVenture 2012 in Oshkosh. Most UK based pilots are probably focused on the upcoming London Olympics but the Experimental Aircraft Association's AirVenture 2012 will begin in Oshkosh (Wisconsin) on July 23rd. Hence, Flightglobal has put together a comprehensive list of the top 10 sights to see this year's event plus MyGoFlight will be making its new MyGoFlight iPad Checklist available for free at Oshkosh.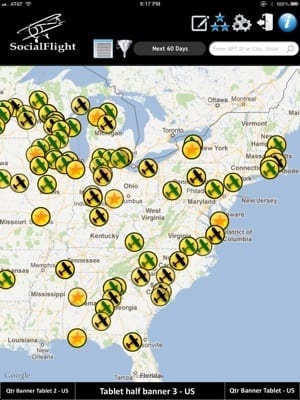 New App to Alert GA Pilots to Aviation Events. Are you a US based pilot who has missed an aviation event that you would have wanted to attend if you had only known about it? If so, Where2 Interactive has launched SocialFlight, a free mobile app that provides pilots with an interactive map of aviation events. The app will alert you to fly-ins, airshows, pancake breakfasts, conventions, FAA Safety Seminar and more.
Last Spruce Goose Crewmember Passes Away. On a historical note, General Aviation News has recently noted the passing of John Hayes Glenn, the last crewmember of the one and only flight of Howard Hughes's Hughes Hercules HK1 – the so-called "Spruce Goose." He was 94.
Flight Attendant Marks 50 Years with American Airlines. In addition, the Herald Sun in Durham (North Carolina) recently had a story about Peggy Turley who has just celebrated 50 years as a flight attendant for American Airlines. She joined the airline in 1962 when she was just 23 years old after seeing an ad in the newspaper.
Monarch Airlines to Establish a New Base at Leeds Bradford Airport. In British Aviation news, Monarch Airlines has announced that it will make Leeds Bradford Airport its sixth UK base which could mean up to 200 new jobs. Monarch Airlines will also introduce 12 new routes from next year, including to places like Barcelona, Rome, Larnaca and Tenerife plus make its service to Munich (that is due to start this winter) an all-year-round one.
Bankrupt Hawker Beechcraft May Be Bought By the Chinese. Earlier this month, bankrupt Hawker Beechcraft signed an "exclusivity agreement" with Superior Aviation Beijing Co., Ltd. During the 45-day exclusivity period, Superior will perform due diligence as the two companies continue to negotiate a deal with the Chinese paying for production to continue. However and as Russ Niles (the Editor-in-Chief of AVweb) has pointed out, there are still plenty of pitfalls to work out along with other potential suitors who might still be interested in a deal.
Newest Issue of General Aviation Security Magazine Available. On a security note, the Summer 2012 edition of General Aviation Security Magazine has been released. The magazine, which is focused on security issues that impact general aviation, is available here.
The Red Arrows to Appear at Scotland's National Airshow. Finally and if you are not planning to stay home and watch the Olympics, the Scotsman.com has mentioned that Scotland's National Airshow will be held at the National Museum of Flight (East Fortune) on Saturday, July 28. For the first time in five years, the air show will feature the Red Arrows whose display will start at 2:15 pm to close the first half. Otherwise, visitors will be treated to a mixture of both high-powered jet engines and more vintage aircraft. For the most up-to-date air show information, check out the National Museum of Flight's blog.