Only in America Part I: Justin Bieber Keeps a Plane Waiting 8 hours to Search for His Pet Monkey. The New York Daily News has reported that Justin Bieber kept the pilot on his private plane waiting for eight hours in Miami so that he could search for his pet monkey before returning to Burbank, California. He also allegedly chartered a helicopter to avoid traffic on the way to get his monkey. Its unknown if the monkey in question is Mally, who was last reported to be detained in Germany for lacking the right papers…
Only in America Part II. American Airlines flight attendant Louann Giambattista is suing her employer for being "outrageously discriminated" against "because of a false perception that she had a mental disability." The basis for her charge? Accusations from two fellow flight attendants that she was carrying her pet rats on her as she worked…
Drunk Cricketer Mistakes the Plane Door for the Toilet. British Airways is investigating reports that a drunk Sri Lankan cricketer caused a panic during a flight when he tried to open the plane door which he mistook for a toilet door. Apparently, he tugged at it for up to two minutes. The airline stressed its impossible to open a cabin door while in flight.
Blimps in Alaska. Anchorage held its third annual Alaska Airships Conference on July 10-12 to discuss the potential of having a flotilla of blimps capable of delivering fuel to rural Alaska and mining equipment to remote areas of the state. The Alaska Dispatch noted that Alaska could be a "proving ground" for airships because they can navigate its vastness with no need for runways and other infrastructure required by aircraft.
The Used Aircraft Market is Stabilizing. Todd Huvard, the president of AircraftMerchants, has written a lengthy article for General Aviation News to say that the used aircraft market in the States has recovered considerable momentum during the past several months as small business owners have begun to expand. Todd noted that he sells everything (from Cessna 150s to King Airs to the occasional business jet) and "some of everything has been selling at a robust clip lately."
Backcountry Pilot – A World Away: Modern Bush Flying in Papua. Matt Dearden, the British blogger behind the Bush Flying Diaries, Indonesia, has written a great article about flying in Papua for an up and coming website called Backcountry Pilot. Included in the article are some stunning photos plus two videos he made of his flying.
The Largest C-130J Formation Ever Flown. Finally, a hat tip to David Cenciotti's Aviationist site has for posting this photo of twenty C-130Js belonging to the 317th Airlift Group from Dyess Air Force Base, Texas, setting a world record for the largest C-130J formation ever flown in a single formation. Certainly it pales in comparison to what one would have seen during World War II. Nevertheless, the site of so many C-130Js is rather amazing!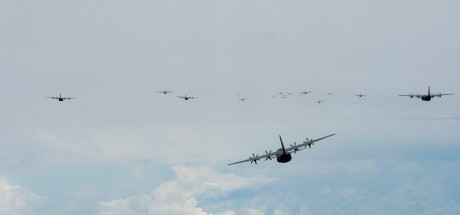 Image credit: US Air Force