With a few more months of winter weather in the northern latitudes, grounded pilots might want to keep themselves occupied with the aviation books or books about pilots:
The Nation's Hangar: Aircraft Treasures of the Smithsonian. Aviation history buffs might want to check out "The Nation's Hangar: Aircraft Treasures of the Smithsonian," which takes an in-depth look at the aircraft collection at the National Air and Space Museum's Steven F. Udvar-Hazy Center. The book has more than 225 full-color and 75 black and white photos in its 254 pages while author F. Robert Van Der Linden takes readers into more detail beyond the pictures. The book is available for $29.95 from the Smithsonian Institute and Amazon.com.
Then and Now: How Airplanes Got This Way. If you are wondering why and how aircraft took the form and silhouette that we take for granted today, Sporty's has published aviation historian Phil Scott's book, "Then and Now: How Airplanes Got This Way," which will answer all of your questions.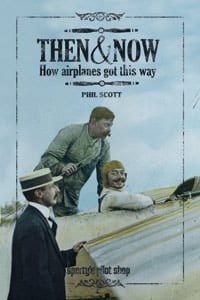 The book is available for $19.95 from Sportys.com.
Air Travel Handbook. Travel enthusiasts and frequent flyers would be wise to obtain a copy of Dan Poynter's Air Travel Handbook, which includes everything from tips for packing to making the most out of airline frequent flyer programs. Its worth mentioning that author Dan Poynter himself is a seasoned traveller and a licensed pilot who travels almost 10,000 kms every week and has completed more than 20 round-the-world itineraries.
Flight of a Lifetime. Retired pilots might want to read "Flight of a Lifetime," a memoir by William Randolph which tell how he, at the age of 76, began to build his own general aviation aircraft and then circumnavigate the globe on his own. Randolph has flown since 1948 and he has also owned eight aircraft. His memoir is available from Amazon.com.
HMS Ark Royal: Zeal Does Not Rest 1981-2011. Navy aviation buffs should check out a recent book review of "HMS Ark Royal: Zeal Does Not Rest 1981-2011" (Zeal Does Not Rest was the ship's motto). The book started out as a tribute to mark the HMS Ark Royal's 25th year of service but it has since become its obituary as the ship was decommissioned during its writing as part of the government's defence budget review. The book is published by Maritime Books and costs £29. For further information, contact the publishers at www.navybooks.com or from Amazon.co.uk.
Memories. Finally, Weston H. Ament has written a personal memoire about having been a pilot for much of the 20th century. During World War II, Ament served in the U.S. Army Air Corps and earned a distinguished flying cross for his service in flying more than 166 missions and then he worked for several commercial carriers before becoming a Trans World Airlines (TWA) pilot for more than 30 years. When he finally retired, Ament performed in airshows in a plane he built himself and continued to give aviation instruction until the age of 88 when he finally stopped flying after having logged more than 38,000 hours in the air.