If winter weather has you grounded as a pilot, check out some of these aviation books that will have you feeling like you are still in the pilot's seat:
Coastal Dawn. GetReading.com has a short book review about local author Andrew Bird and his new book Coastal Dawn which chronicles the actions of the courageous pilots, observers and air gunners flying the Bristol Blenheim MKIV-F during World War II. It should be mentioned that Mr. Bird's first book, A Separate Little War, had its paperback edition voted as one of the best military books in 2008 by Aviation News.
Great British Adventurers. Nicholas Storey's Great British Adventurers explores the extraordinary feats achieved by 26 British adventurers with a chapter dedicated to each one. This is Hull and East Riding has a detailed book review of one of the book's chapters because it feature's Hull's high-flying hero, Amy Johnson, who broke her husband's speed record for the London to Cape Town flight by 11 hours and ultimately died during World War II while on a routine RAF mission.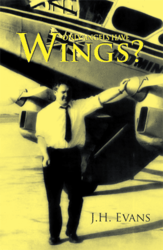 Only Angels Have Wings? John H. Evans, who grew up as an asthmatic child in the mining valley of the Rhondda in Wales only to go on and become a commercial airline pilot and an airline executive who helped start three UK regional airlines and two jet operations, has an autobiography entitled: Only Angels Have Wings? Readers will discover how as a pilot, he became "involved with the Mafia, was approached to help in the escape of a Great Train Robber and aroused the wrath of the Libyans, has flown over 10,000 hours and carried such notables as John Lennon and Yoko Ono and the Prime Minister of Grenada" according to the book's press release.
Hell Above Earth. AVweb has a podcast interview with Stephen Frater, the author of Hell Above Earth, about how he unearthed the story of a B-17 bomber pilot who was related to Reich Marshal Herman Goering but who flew for the US in World War II and the co-pilot under secret orders from the FBI to kill him should anything go wrong.
Flying the Cessna 210: The Secrets Unlocked. Five-time Master CFI Chuck McGill has released Flying the Cessna 210: The Secrets Unlocked. McGill offers his wisdom on optimum performance and safe operations that are based on his thousands of hours of flying and teaching in the aircraft. He also points out that many pilots purchase complex go-fast airplanes, but don't have a good understanding of the aircraft's systems and flight characteristics. For more information, visit SafeFlightIntl.com.
Learning to Fly an Airplane: Insider information from a student perspective. Private pilot Ted Seastrom who is the author of Learning to Fly an Airplane: Insider information from a student perspective, has decided to make his book free online or downloadable as a PDF after selling enough books to cover initial expenses. According to Seastrom, the book is not about how to fly as it walks prospective pilots through each stage of the training process and warns them of the pitfalls and unexpected challenges that await.
The Spirit of Lindy. Kermit Weeks, the founder and owner of Fantasy of Flight in Polk City, Florida, has released his second children's book, The Spirit of Lindy. The book introduces two new airplane-based characters: Geoffrey D. H., an enthusiastic DeHavilland 4 Mailplane with a grand idea; and Lindy, based on Lindbergh's plane, Spirit of St. Louis. Its worth noting that Weeks' first book, All of Life is a School, won a Bronze IPPY Award in the 13th Annual Independent Publisher Book Awards.
CloudDancer's Alaskan Chronicles. Finally, the Alaska Dispatch has recently reported that the bush pilot blog Oddball Pilot has an interview with CloudDancer, an Alaska bush pilot "turned airline captain and author" who is the author of the CloudDancer's Alaskan Chronicles series about his Alaska flying adventures. Selected excerpts from the series can also be read online to wet your appetite to read more.