We have have recently noted an article about resurrecting lost RAF spitfires in Burma and then the finding of aviation's equivalent of Tutankhamun's tomb in the form of a lost RAF Kittyhawk P-40 found in Egypt's desert but General Aviation News has a detailed article about an effort to restore a Luftwaffe Focke Wulf 190F-8 "White One" that was shot down over Norway on February 9, 1945.
The aircraft's pilot, Luftwaffe Unteroffizier (Corporal) Heinz Orlowski had just gone up against an RAF Mustang (which crashed, killing the pilot) and had taken flak, probably from the German destroyer Z33 and support ships that the RAF planes had been sent to destroy, when his aircraft was hit by a shell. While attempting to bail, Orlowski got entangled and by the time he freed himself, he was already too low and the chute only partially opened. He landed on a mountain, sparking an avalanche that caused his flare pistol to ignite and seriously burn his leg. After being found hiding in a barn by locals, he was turned over to German ground forces and spent the rest of the war in a hospital.
In 1983, the "White One" and other wrecked FW190s were shipped to the Texas Air Museum on an exchange deal to be partially restored and put on static display to be visited by Orlowski in 1994 (he passed away a couple of years ago in Berlin). In 1999, the aircraft was acquired by Mark Timken with the intention of restoring it to its 1945 flight condition to become the second air worthy FW190F-8 fighter bomber.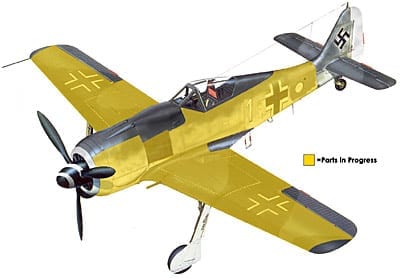 Of course, restoring a World War II aircraft to flying condition is never easy and the article goes into considerable detail about the trials and tribulations faced by the restorers, including corrosion, having to translate the original flight and maintenance manuals from German to English and missing and damaged parts. In fact, the restorers have had to do a worldwide search for FW190 parts which, surprisingly, occasionally pop up on eBay – meaning restoration can continue until another missing part stalls progress. Hence, it will probably be another two years before the entire restoration is completed.
To learn more about project or about restoring World War II era fighters in general and how you can help, visit WWIIFighterAircraftFoundation.org.